Thin stainless steel laser cutting machine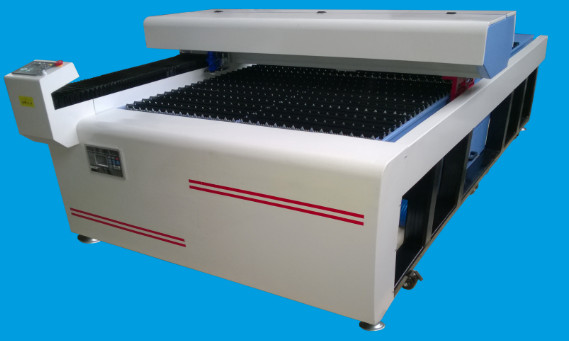 Feature:
1.PC-1325M is specialized in cutting thin stainless steel, carbon steel,
It also can cut and engrave non-metal materials too.
2.High efficiency: The cutting speed of 1mm stainless steel is 1800 mm/min.
20mm acrylic with perfect cutting quality.
3.PC-1325M machine is matched with the Panasonic Servo System and
high precision.ball-screw system to ensure the high precision, running stable
and long-operation.
4.The sheet metal is not flat. But the system can sense a distance from
the nozzle to the metal surface and follow the surface up and down to
automatically adjust the certain focus distance for keeping high precision
cutting quality.
5.The laser beam is expanding, so the bigger the working area is, the
more difficult the machine is to get the same cutting quality over the
whole working area. The fixed beam optical system can guarantees
the consistent beam power and quality over the whole working area
so that the machine can get the same cutting quality.
6.High efficiency, high precision, stable performance and long life.
Low running cost about 5KVA/hour.
Application
Laser power

150w

Material

Acrylic

MDF

Stainless steel

Carbon steel

Cutting thickness

30mm

10mm

1.5mm

1.5mm

150W Cutting speed
Material

Cutting thickness

Cutting speed (mm/min)

Stainless steel

0.5mm

2700

1mm

1800

1.5mm

1000-1200

Carbon steel

0.5mm

3000

1mm

1800

1.5mm

1000-1200

Acrylic

10mm

300

20mm

90-120

MDF

10mm

300-400
Technical Parameter
| | |
| --- | --- |
| Model | PC-1325M |
| Laser power | 150W |
| Working area | 1250 × 2500 mm |
| Positioning accuracy | ±0.05 mm |
| Positioning speed | 20m/min |
| Weight | 1000 kg |
| Power supply | 220V±10%/10A |
Working video:
https://www.youtube.com/watch?v=uBqJYJAtS5Y&list=UUn90proxwHoOsU1pdVNGupQ